About U.S. Cold Patch
U.S. Cold Patch is a cold asphalt repair material that repairs potholes and cracks on roads, bridges, parking lots, driveways and other asphalt and concrete surfaces. This product is unique. It is made from RAP—recycled asphalt pavement — which has been treated so that the hardened asphalt will re-bond when compacted.
U.S. Cold Patch is made without light distillate petroleum or biodiesel solvents found in other bagged cold asphalt products, called "cutback" asphalt. Cutback asphalt products cure through evaporation. U.S. Cold Patch cures through compaction.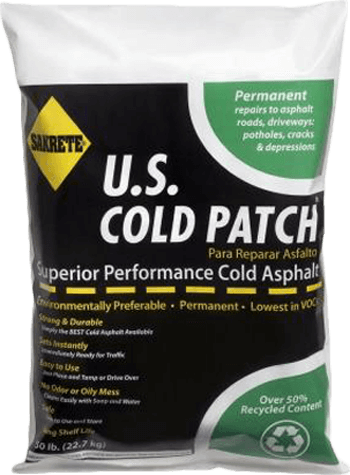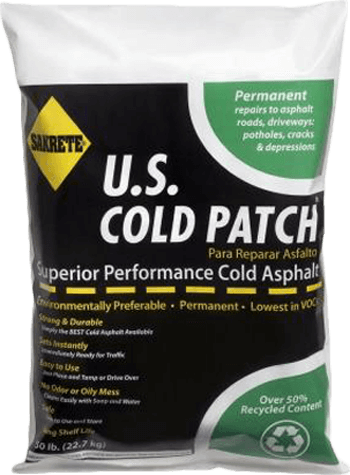 Fast & Easy Pothole Repair
Road pros choose U.S. Cold Patch because it's the fast, permanent, easy to use, environmentally preferable cold asphalt product. Independent testing and more than a decade of use on streets and highways around the world confirm that U.S. Cold Patch is the best road repair product on the market.
For instructions, see our handy How to Use guides: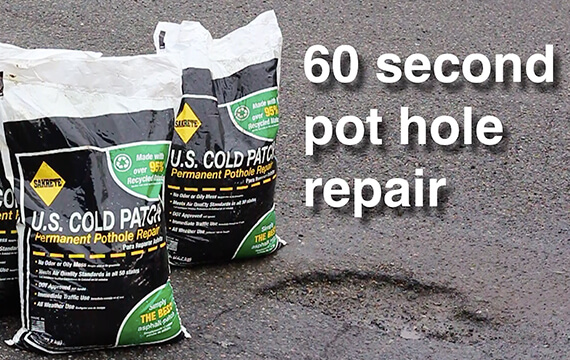 why choose u.s. cold patch?
| Performance criteria | U.S. cold patch | Other cutback brands* | |
| --- | --- | --- | --- |
| 1. Strongest & Most Durable | | | U.S. Cold Patch is the only cold asphalt product tested by the Marshall method (ASTM D1559) to consistently achieve excellent ratings (+200 lbs.), indicating superior load-bearing strength of a compacted repair to sustain traffic loads and superior projected durability of a repair over time. |
| 2. Rates Closest to Hot Mix Asphalt | | | U.S. Cold Patch is the only cold asphalt product tested by the Marshall method (ASTM D1559) to consistently achieve excellent ratings (+200 lbs.), indicating superior load-bearing strength of a compacted repair to sustain traffic loads and superior projected durability of a repair over time. |
| 3. Fastest to Set Up | | | U.S. Cold Patch is the only cold asphalt product tested by the Marshall method (ASTM D1559) to consistently achieve excellent ratings (+200 lbs.), indicating superior load-bearing strength of a compacted repair to sustain traffic loads and superior projected durability of a repair over time. |
| 4. Easiest to Apply | | | U.S. Cold Patch is the only cold asphalt product tested by the Marshall method (ASTM D1559) to consistently achieve excellent ratings (+200 lbs.), indicating superior load-bearing strength of a compacted repair to sustain traffic loads and superior projected durability of a repair over time. |
| 5. Year-Round Use | | | U.S. Cold Patch is the only cold asphalt product tested by the Marshall method (ASTM D1559) to consistently achieve excellent ratings (+200 lbs.), indicating superior load-bearing strength of a compacted repair to sustain traffic loads and superior projected durability of a repair over time. |
| 6. Longest Shelf Life | | | U.S. Cold Patch is the only cold asphalt product tested by the Marshall method (ASTM D1559) to consistently achieve excellent ratings (+200 lbs.), indicating superior load-bearing strength of a compacted repair to sustain traffic loads and superior projected durability of a repair over time. |
| 7. Permanent | | | U.S. Cold Patch is the only cold asphalt product tested by the Marshall method (ASTM D1559) to consistently achieve excellent ratings (+200 lbs.), indicating superior load-bearing strength of a compacted repair to sustain traffic loads and superior projected durability of a repair over time. |
* medium-cure cutback asphalt, slow-cure cutback asphalt, biodiesel
Simply the easiest product to prep for (no tack required), to use, (just pour out of the bag) to compact, (tamp or tire roll) and most importantly, stays in place, long lasting, (some of our patches are 18 months old and still require no sweetening material)."
- R.A. Washington